Here is a great way to extend the usefulness of any printed, physical materials by linking them to relevant Web pages. Users away from a computer but equipped with smartphones can then easily get access to your online information. It will also allow you to track and measure the impact of your outreach campaigns.
What are QR Codes?
You've probably seen them around, but in case you are not familiar with what they are, QR Codes (short for "quick response") are barcodes readable by QR scanners, mobile phones with a camera, and smartphones. The code consists of black modules arranged in a square pattern on white background. The information encoded can be text, URL or other data. These codes are starting to get wider usage in convenience-oriented applications aimed at mobile phone users (known as mobile tagging). It basically bridges the gap between the physical and digital worlds, between printouts and the Web.
These codes are useful on printed materials, from pages printed from your site, brochures, postcards, ads – printed in a magazine  or plastered on a billboard. Since printed materials can be found away from a computer, these barcodes provide users with camera smartphones to quickly extend the information from the physical materials to their online extension on your website.
QR Codes storing addresses and URLs may appear in magazines, on signs, buses, business cards, or on just about any object about which users might need information. Users with a camera phone equipped with the correct reader application can scan the image of the QR Code to display text, contact information, connect to a wireless network, or open a web page in the phone's browser. This act of linking from physical world objects is known as a hardlink or physical world hyperlinks.
Wikipedia – QR Code
Many Android phones come with QR code readers already installed. Blackberry phones running Blackberry Messenger 5.0 (or more recent versions) can also scan QR codes using the "Scan A Group Barcode" option in the BBM menu.
How to Use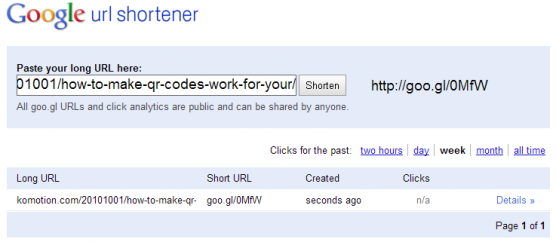 Go to the new Google URL shortening service at http://goo.gl. Enter the URL you want to get the QR Code for and get it shortened . For example, I entered the URL of this post – /20101001/how-to-make-qr-codes-work-for-your/, and got it shortened as  http://goo.gl/0MfW.
This is great if I want to Tweet a link to this post, it will now be short and sweet.
Now to get the QR Code, simply add ".qr" at the end of it and go to that URL – http://goo.gl/0MfW.qr; and will see the QR Code automatically generated for you.
But wait, there's more… You can also get access statistics for the page, acccessed either via the QR Code or via the shortened URL directly.
Get Statistics
Click the Details link on the main page where you created your shortened link; it's in the lower-right. Or, simply add ".info" to the shortened URL to go directly to see the statistics – http://goo.gl/0MfW.info