We provide you all the building blocks needed to create great websites. And each block is packed with flexible choices to ensure your needs are fulfilled. Life is good!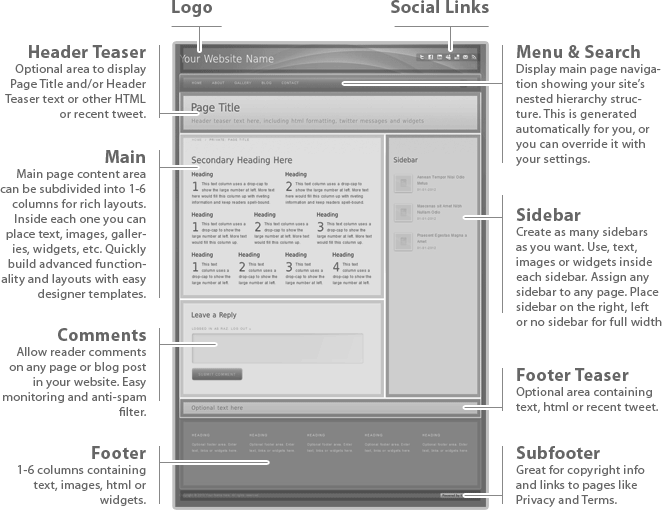 Logo and Social Links
Have your website name show as text or upload your logo or brand graphic. Easily display links to you social media networks like Twitter, Facebook, LinkedIn, MySpace, Delicious or email. You can also link to your site's RSS feed, which is generated for you automatically.

Menu
The menu is automatically generated for you to display your pages. The menu also includes hover effects to show nested pages. You can also customize the menu to display certain pages and to nest them as you want.


Main
Use 1-6 columns to organize content. Columns can also be nested in each other for virtually endless possibilities. Column grid based designs will always make your pages look professional.
Page layout with multiple columns →

Sidebar
Sidebars can contain widgets, text, links, etc. You can create as many sidebars as you want. You can then choose if and which sidebar you want to display on any given page. Pages can have sidebar on right, left or display full-width. View all sidebar examples →

Footer Teaser
Optional text area to show a secondary message on every page of your site. You can have it display, text, recent tweet or HTML content.

Footer
Area to show footer content. Widget and multi-column ready for your text, links, images or HTML content.

Sub-footer
Special areas reserved on the left for a message like copyright info. On the right there is the "Powered by Komotion" badge (which can be removed for an additional cost) and optional links to specific pages you specify.